At Ubora Engineering & Planning, social events are part of the Uborian culture. There's always something to celebrate every month! Here are just a few of our fun activities:
Monthly Company Lunches
Whether it is to celebrate employee(s) birthdays, celebrate a holiday (i.e. St. Patrick's Day, 4th of July aka "Fun in the Sun", Halloween, etc.), or just because!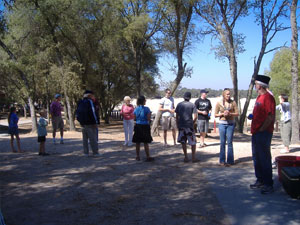 Annual Summer Family Picnic
It's perfect time for our families to come together. The idyllic park setting just makes the catered barbeque taste so much better! The kids get busy with a treasure hunt and the parlor games turn us all "young once" into "young ones".
Annual Christmas Party
This is our big social event at the end of the year! It brings us all together to show our appreciation and thanks to all our employees and their families, for the continued success of the company. Excitement builds as awards are handed out for the winners of our holiday cubicle decorating contest. Our "white elephant" gift exchange is everyone's favorite!